The Washington Post — June 26, 2003
By Linda Wheeler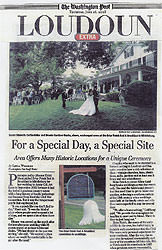 Pentagon policy planner Kristi Hunt picked Briar Patch Bed & Breakfast in Middleburg for her wedding to Army Col. Art Kron in September 2002 because it had the feel of a gracious country estate with a long history of family gatherings and because Kron liked the Civil War connection. But it was the wraparound porch that captivated her.
"It was a porch like you don't find today," Hunt said. "It was the kind of place where people used to spend a lot of time, and we spent a lot of time there also."
Dinner was served on the porch after the late-afternoon wedding with 35 guests seated at antique tables and chairs. "We had dinner as the sun was setting," she said. "We wanted a place where we would be comfortable to linger after the meal."
Couples who want to be married in a historic setting in Loudoun and Fauquier counties have a rich selection of sites – vintage churches, inns, plantations, mills, gardens and at least one library and one schoolhouse.
Briar Patch co-owner Ellen Goldberg books weddings as two-day events only. She said the bride's and groom's families need time to get to know one another, reflecting a southern custom of the 19th century when weddings were held at the family estate and relatives were expected to stay for several days.
"We offer a home setting," Goldberg said. "We provide the atmosphere for families to meet and to blend. There is time to just hang out."
Briar Patch, like many of the early estates in the area, has bullet holes in its brick walls as evidence that the Civil War was a very personal experience for some residents. After the war, the region was devastated economically, and many mansions fell into ruin. Briar Patch made its comeback in 1965 when previous owners renovated it.